This system requires that the Picastar timer board PIC be programmed with modified code:
stvox04_padis.hex
.
The modified code uses the hitherto unused
RA4
pin to disable PA bias.
If RA4 is low on receive, the bias remains disabled on switch to transmit.
If RA4 goes low on transmit, the bias is disabled. If RA4 then goes high again,
the bias will not enable until switching to receive and then back to transmit.
If reflected power is less than specifed Mismatch watts then no shutdown occurs.
If reflected power is just above Mismatch watts then shut down occurs afte Mismatch seconds.
Higher relected power will cause shutdown to occur earlier than Mismatch seconds.
After shutdown and/or switch to transmit, there will be a short delay before the PA can be restarted.
Reloading a saved Calibration
Open the forward or reflected calibration window using:
Menu | Setup | SWR calibration | Forward power calibration
or Menu | Setup | SWR calibration | Reflected power calibration
Click

and the file open dialog window appears: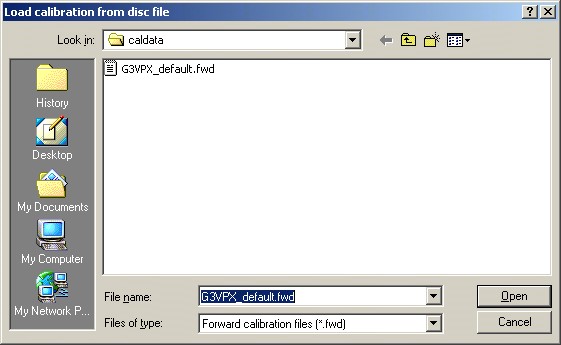 This defaults to your last saved forward or reflected calibration.
Select your file and click Open.