Homebrew-radios.net - TrxAVR - minimum components for early testing
Some builders might wish to assemble their TrxAVR board in a way that allows testing of USB connectivity
and ATmega2560 programming at an early stage in the programming.
The advantages of doing this are:
It gives confidence that the system works before installing the remaining components.
If there is a hardware fault (eg: non-soldered ATmega2560 or FT245R pin) then it is easy
to trace because there are few components to check.
My rig uses a home-made TrxAVR-A controller.
I needed to assemble one of Glenn's TrxAVR-B boards to test a prototype Colour TFT board.
(designed by Chris Stake, drawn up and manuactured by Glenn and programmed by Gerard)
The connection to the colour TFT display I2C is 3 wires: data, clock and ground. There is a 4 pin
I2C bus connector adjacent to the 24LC512 EEPROM for this and other I2C devices.
So I didn't need the parallel display connecting components.
Even without a display connnected, the minimum configuration described below allows you to:
Test USB connectivity
Use Mprog to configure the FT245R USB chip.
Observe that Hobcat reports: USB: TrxAVR control baord (FT245R) s/n A9RUL680 etc
Connect the AVR programmer (AVRISP2 or Ponyprog)
Set the fuses and program the Atmega2560.
Observe the message: TrxAVR v 1.38 ready (no DSP load delay delay until DSP code loaded)
Run Hobcat's Hardware setup screen and configure (Do not specfiy a colour TFT dispaly unless
you have one connected - the repeated I2C waits will slow the processor)
Observe meaningful data in Hobcat's debug screen. (The variable names all come from TrxAVR)
Load DSP code and parameters (C:\TrxAVR folder needed - set up same as C:\Star + trxavreemem.ini)
Reboot and obvserve 20second DSP load delay (can't see it as you have no display)
(No DSP unit needed)
Run Hobcat's DSP window and see meaningful parameter values received via USB from TrxAVR.
Use Hobcat to upload stacks, slots and other data from trxavreemem.ini.
Use Hobcat to upload default SWR forward and reflected claibration data - observe correct checksums.
Use Hobcat to upload AD603 calibration curve (used by DSP monitor)
Run Hobcat's DDS window and see meaningful VFO A and B frequencies. Band and mode changing
should work.
All the above testing can be done with no display and no keypad.
The minumum components to achieve this are:
Connectors:
power
6 pin programming connector
USB connector
Other components:
one Atmega2560 = IC1
the USB chip - FT245R = IC5
a 5v regulators (IC2)
The 24LC512 EEPROM - IC4 - in a socket
Two electrolytics C33, C11 and C14
100nF decoupling C1, C10, C6, C26,C27, C7
The reset capacitor C19
The Xtal capacitors (18pF) C15 and C16 .. and the Xtal !
Resistors:
- USB - R58, R59 (and R83)
- I2C pullup R8 and R9
- FT245R Txd and Rxd pullups R28 and R29
- Reset pullup R7
And the two missing earth links - see Glenns web site.
And that's all ...... and the board looks rather empty !
Double click the following images for the high-res version.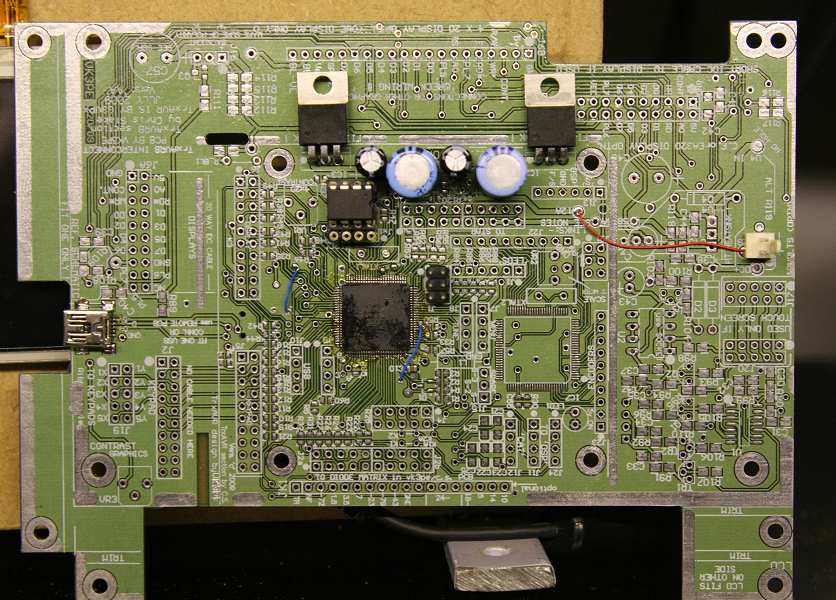 TrxAVR-B - minimum config topside. Note that both 5v regulators + caps are installed here (only IC2 needed)
I2C connector installed adjacent to 24LC512 EEPROM.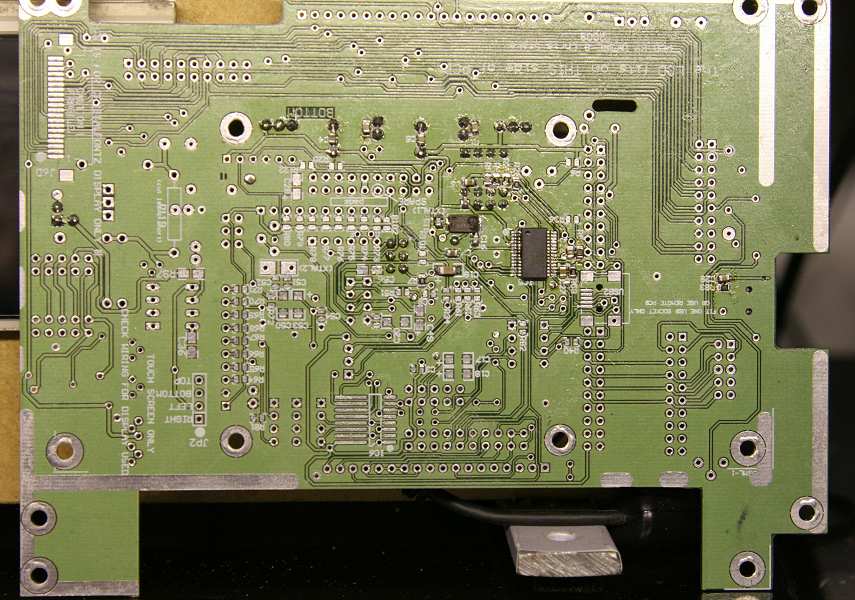 TrxAVR-B mimimum configuration - bottom side. - note: SMD Xtal used here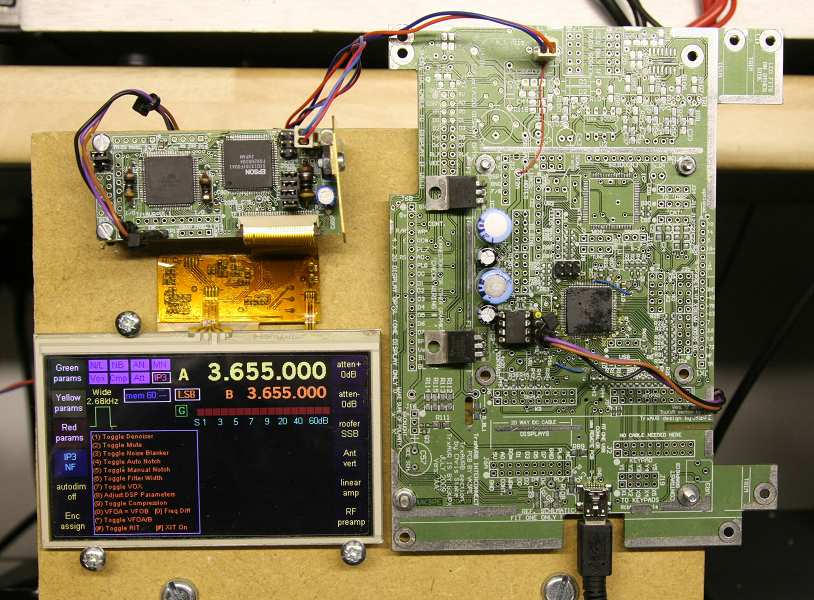 Minimum configuration driving TftAVR and a Truly 480x272 4.5inch display