18 button board and motherboard
This uses an 18 button board which is identical to the left button board of the EA320 graphics assembly.
At this time (5th June 2009), the board has been constructed but not tested.
However, the touch panel and LED drive circuits are identical to those on the EA motherboard which is operational.
Note that the 5x5 key matrix connections to the IDC connector for TrxAVR-B are identical to those on the EA motherboard
However, the order of the pins of the 10-way SIL connector to TrxAVR_A is different to that of the the EA320 motherboard.
The board provides a 4x3 keypad (whose operation includes complete Picastar DSP and DDS emulation)
and six other keys. All 18 keys are wired to the 5x5 key matrix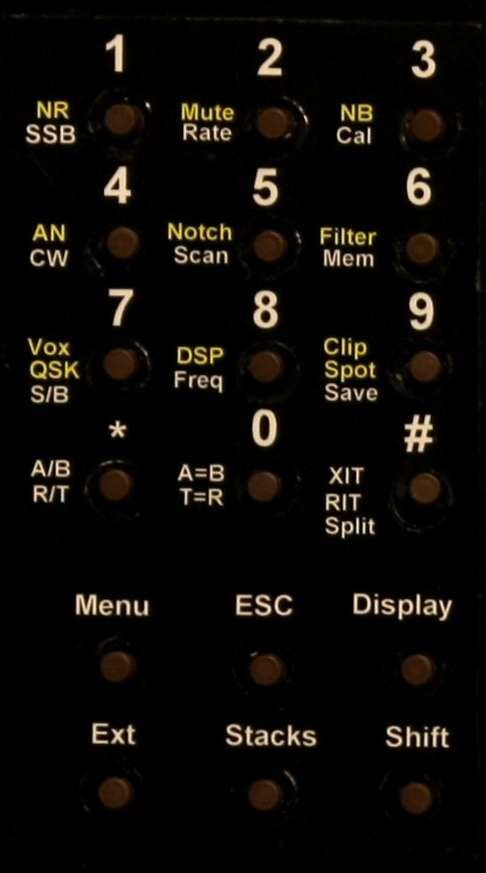 An alternative software configuration is available for use with character displays:
- the Display and Stacks buttons are not needed and so the two bottom rows are:
Menu ESC Shift
C M N
where C, M and N are user definable soft keys
(Also, soft keys A to L are accessible using the Shift key)
The board has a motherboard which is slightly wider than the button board (55 x 92mm)
The motherboard provides the following:
Connection from TrxAVR-B's display ribbon cable to a 20way SIL connector
Contrast pot and connection for Vee 24v contrast adjustment
Current regulator for LED displays - (and PWM drive connection from TrxAVR)
Touch panel drive circuit with connector for TrxAVR-B (IDC) and TrxAVR-A (SIL)
SIL connector for forward and reflected power, and Pot A and Pot B analogue inputs to TrxAVR-B.
(TrxAVR-B has all its analogue inputs on its IDC connector, J1)
18 buttons with connectors for TrxAVR-B (IDC) and TrxAVR-A (SIL)
Extra button matrix connector to allow connection for the other 7 buttons of the 5x5 matrix
Schematic and layout drawings will be distributed by HobcatSetup.exe.
Download links are also provided below:
Schematic - pdf
Layout - pdf
Rear layout -pdf
Top copper - pdf
Bottom copper - pdf
Schematic - pcb Pad2Pad file
Layout - pcb Pad2Pad file

Photos (- boards horizontal to save screen space)
Double click for high resolution image.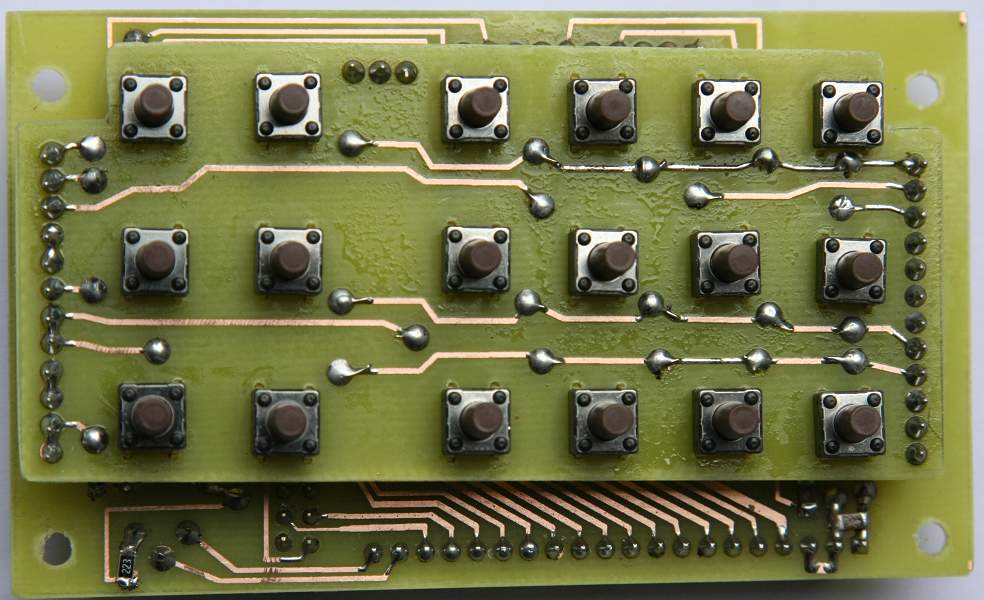 Front view - button board mounted on SIL, turned-pin socket/plug strip
These buttons are RS components part no 3786482 (cost 0.18ukp + VAT)
The buttons have sight sideways movement:
This makes front panel hole drilling not quite so critical.
The front panel holes provide lateral stability.
I do not use any button caps.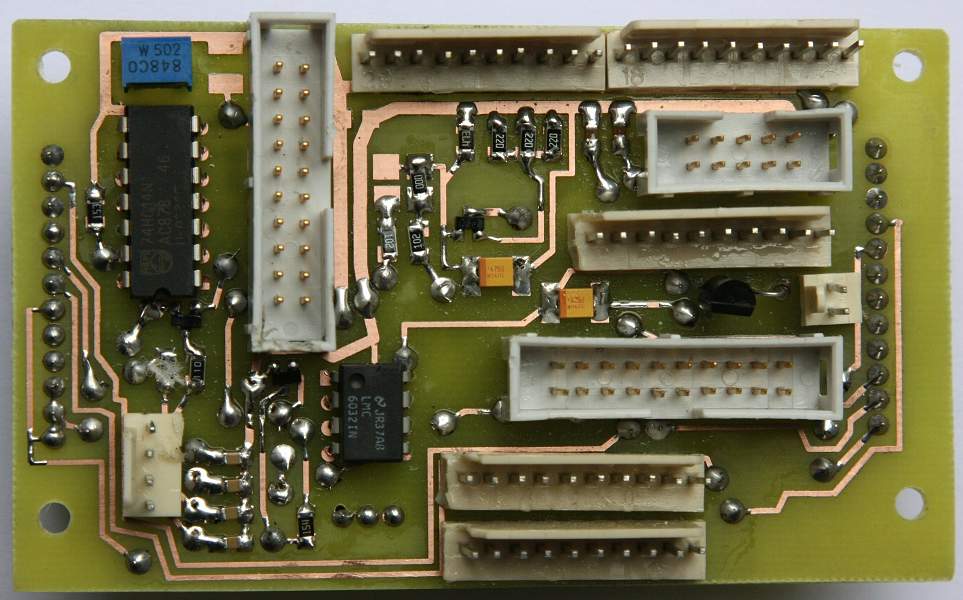 Rear of motherboard with all connectors fitted.
There are alot of connectors because this board connect to TrxAVr-A (SIL) and TrxAVR-B (DIL IDC ribbon cables)
Many installations will not need all the connectors.
The 74HC14, LMC6032, 74L08 and two-way and four-way SIL connectors are only needed for touch panels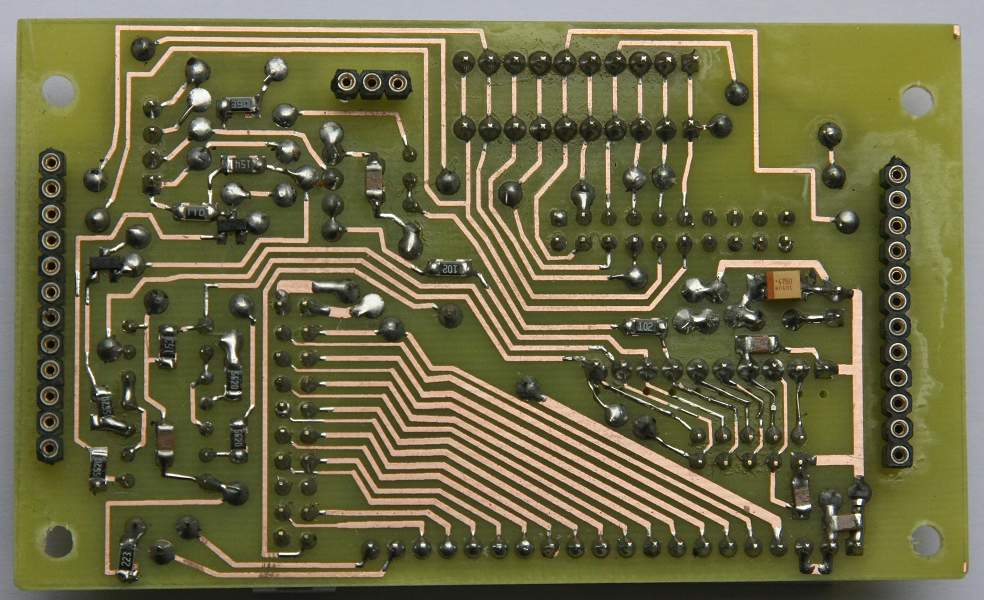 Motherboard - front view with button boards removed.
Note the repaired track which had been damaged by an unwanted extra row of holes !!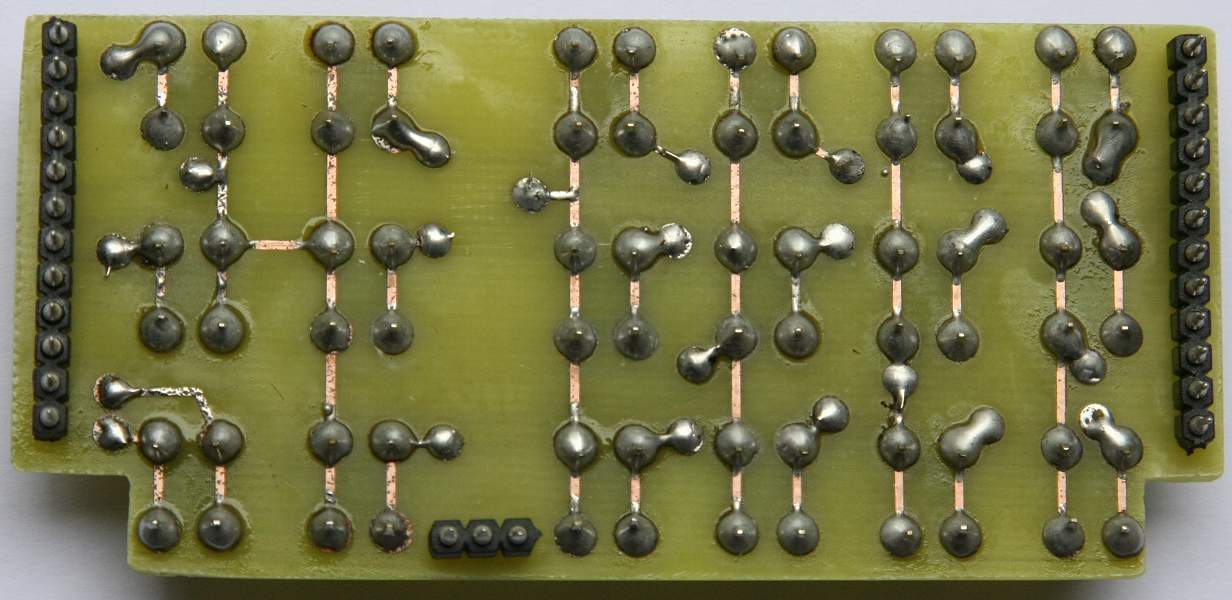 Rear of button board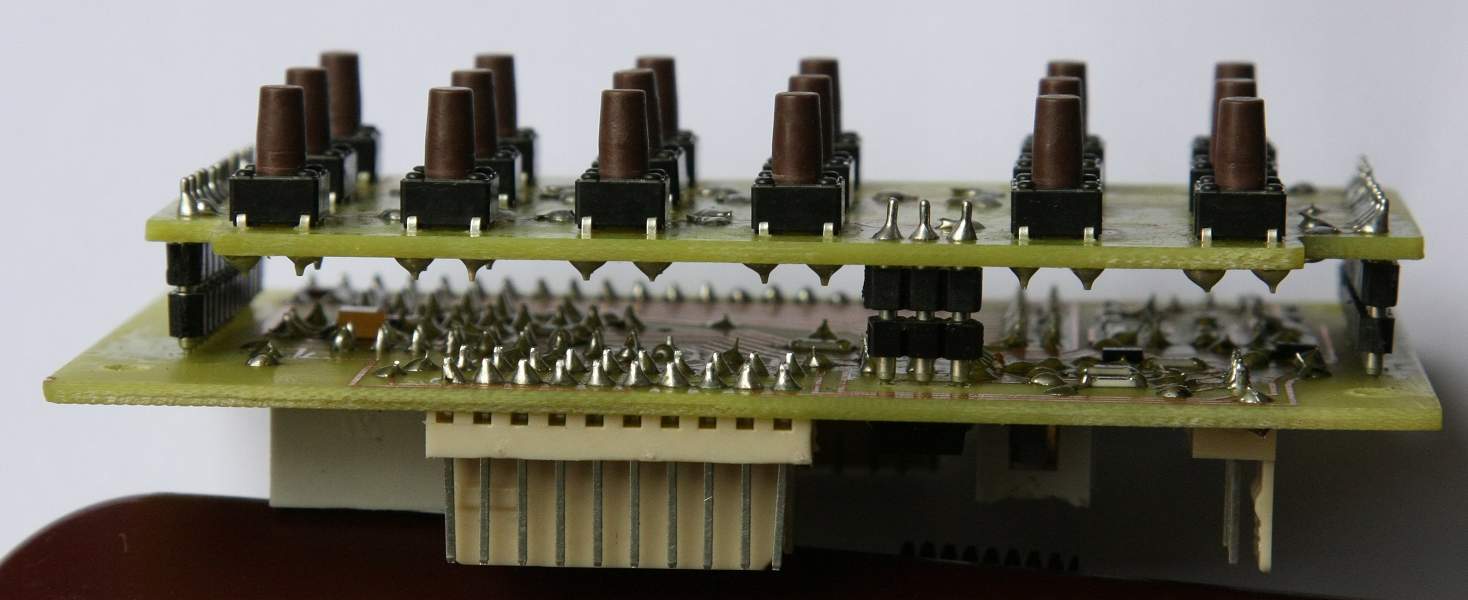 Edge view.